If you haven't already heard about the total solar eclipse going through the Texas Hill Country next spring, now is the time to start planning. This area will be prime viewing, very close to the center line. Nearby Gatesville is directly under the center line, and already there are no available rooms or camp sites in or near the city (as of 6/1/2023). Llano county a few miles south is also very near the center line and they are estimating some 100,000 visitors to the county for this event. For context – Llano county only has a population of about 20,000. "Zoo" may not be close to describing what will happen in Texas for this eclipse.
The eclipse totality will start 1:36 pm and last about four and a half minutes. The partial eclipse will start about 12:20 and run until 3 pm.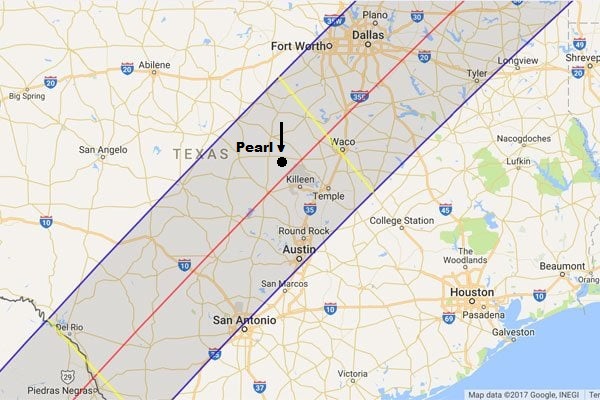 The Community Center has set up a 3-day event for people to come and camp, and watch the eclipse. RV or camping sites will need to be reserved, with a 3 day minimum – Saturday night 4/6 through Monday night 4/8. Anyone who only wants to camp only for the bluegrass event friday and doesn't want to participate in the 3 day event will need to be packed up, unhooked and out of their slot by 10 am Saturday. You're welcome to keep the RV in the general parking until you've had your fill of jamming.
Included with the reservation is a set of eclipse viewing glasses, and a brown-bag lunch on Monday. Commemorative T-shirts are available as an add-on. For more details, including pricing, and terms and conditions, please click on this Eventbrite link.