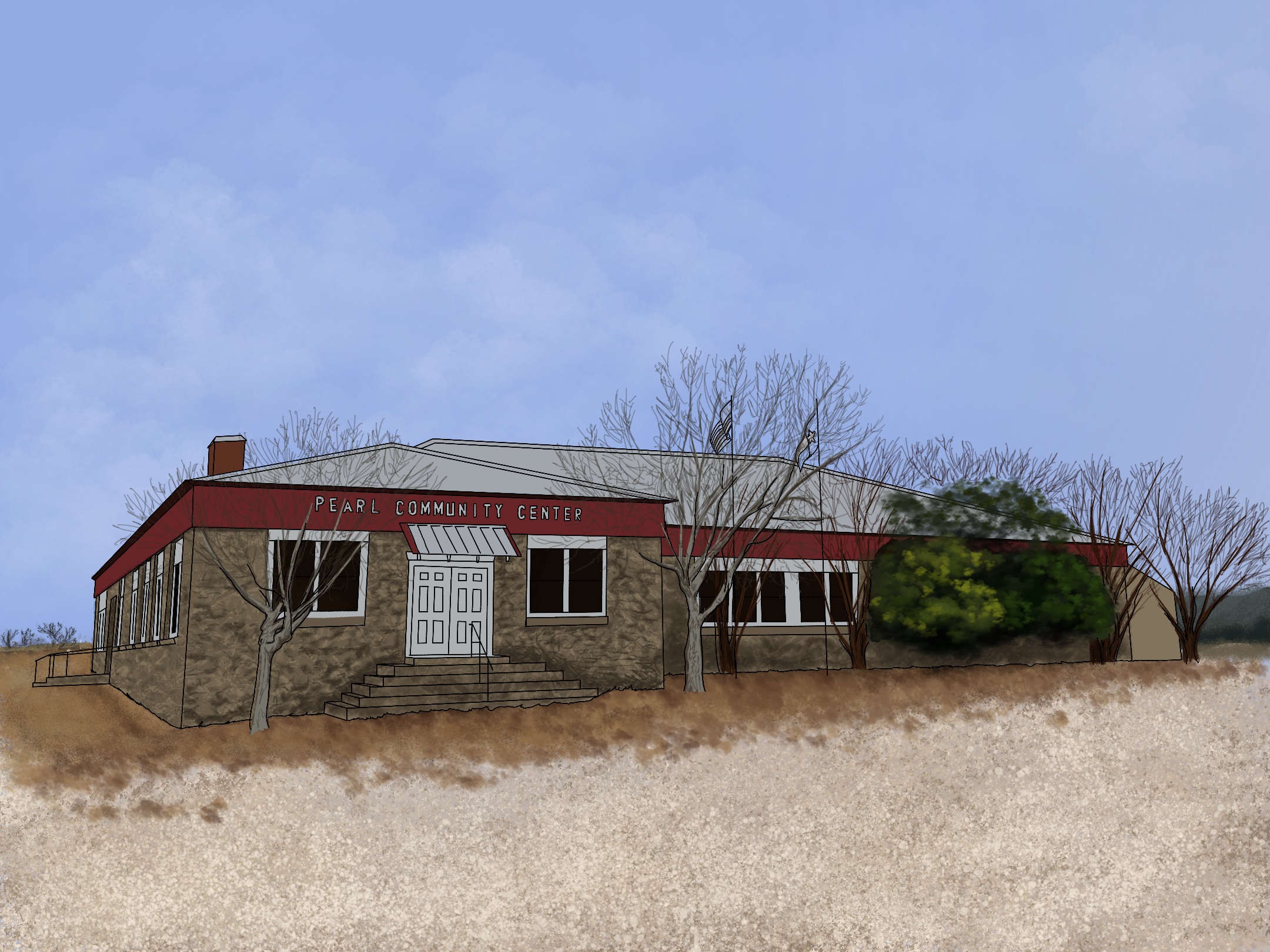 1st Saturday Bluegrass
An often multi-day bluegrass jam nestled in the Texas Hill Country at a historic schoolhouse with an attached RV park. Pickers and Grinners welcome.
Summer is coming, and so is next year's total solar eclipse!
6/5/23
Summer is here really, and it's always a little bit of a surprise every month because so many of our regulars are out traveling, and some friends we haven't seen in ages turn up. August tends to be our most-attended month… if only because it's too blazing hot to do much else besides come jam in the air conditioning. We still have our open mic stage, and though we have several regulars that sign up day of – we've managed to generally have 3-4 acts on stage every month.
Check out some pictures from our June jam on our Facebook page here.
Eclipse Eclipse Eclipse!
IYKNK (if you know you know – youngsters these days!). If you live in central(ish) Texas and don't already know about this… start planning now, even if all you want to do is stay home.
"But we just want to pick, why do we care about the eclipse?" you may be saying. Because April 6, 2024 would be our normal jam weekend, the eclipse is on Monday, and apparently there are a bunch of folks that go a little bonkers for good viewing of a total eclipse. Some of those involved in the Pearl Community Center, and some jam regulars maintain connections to local county and city planning departments, and they are planning for a madhouse, and Pearl is going to have prime viewing if the weather cooperates.
We are going to have our regular jam weekend BUT – anyone who camps ("primitive" or RV) will need to either be out of their spots by 10 am Saturday (and park in general parking to jam until you want to go home) or buy your ticket for a slot for a minimum of Saturday through Monday. Coordinate with friends and have a 4 day jam-a-thon. We don't anticipate anyone needing reservations earlier, but if that changes we'll keep you up to date.
---
Next Dates: July 1, Aug. 5, Sept. 9 (remember – September is second Saturday), Oct. 7, Nov. 4, Dec. 2, Jan. 6, Feb. 3 (hello leap year), Mar. 2, April 6, total eclipse
We are always looking for bands (or even three banjos in a trench coat) to perform on the stage each month – it is an open mic set up. This is how those that love Pearl can donate time and skills to give back to the local community that lets us come in and have this wonderful space to meet friends old and new.
Meet Friends
You'll find friends, old and new, tied by the love of Bluegrass and this old schoolhouse. You never know who might show up to jam!
Scenic Location
Held at an historic landmark school-turned-community center, nestled deep in the Texas Hill Country, 30 minutes outside Gatesville
And So Much More!
A bookstore packed to the brim, with a side of vintage treasures; homecooked food (and pies – never forget the pies!) on Saturday, with proceeds going to the Community Center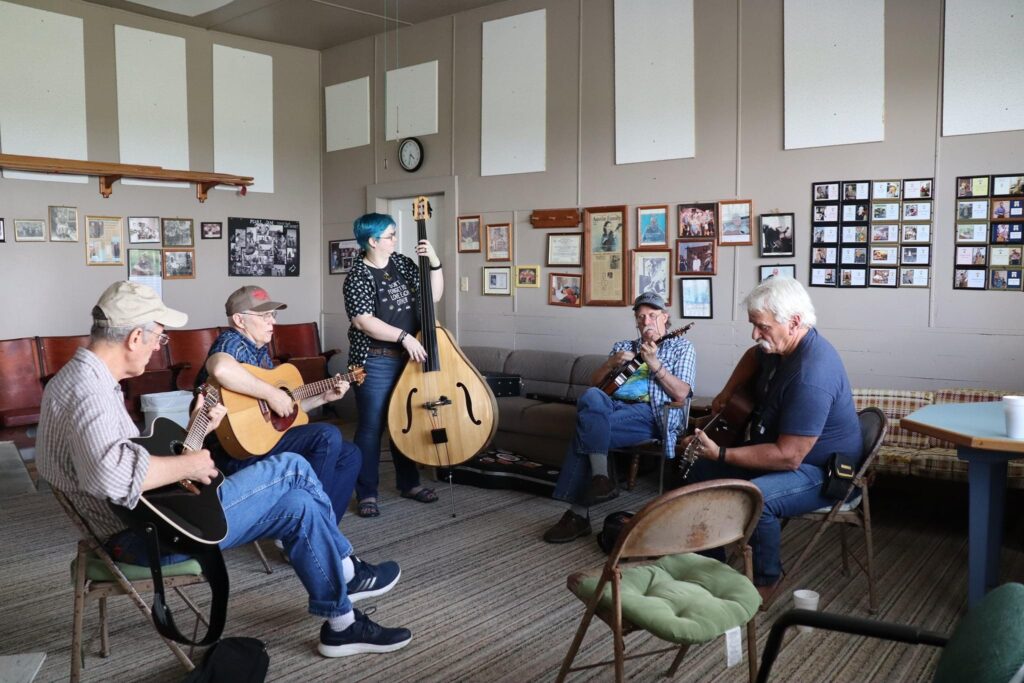 Pickin'
Play until you shout "I've got blisters on me fingers!" Four different rooms, plus plenty of room outside when the weather is tolerable. You never know who is going to drop by, and what kind of fun can be had. Some players come as early as the Thursday before to play and enjoy the scenery. Photo courtesy of Jerry Pool.
Grinnin'
Saturday, starting about 1 pm there is a stage show of local musicians. The performances, held in the old school auditorium, are their way to give back to the community, as they volunteer for these sets.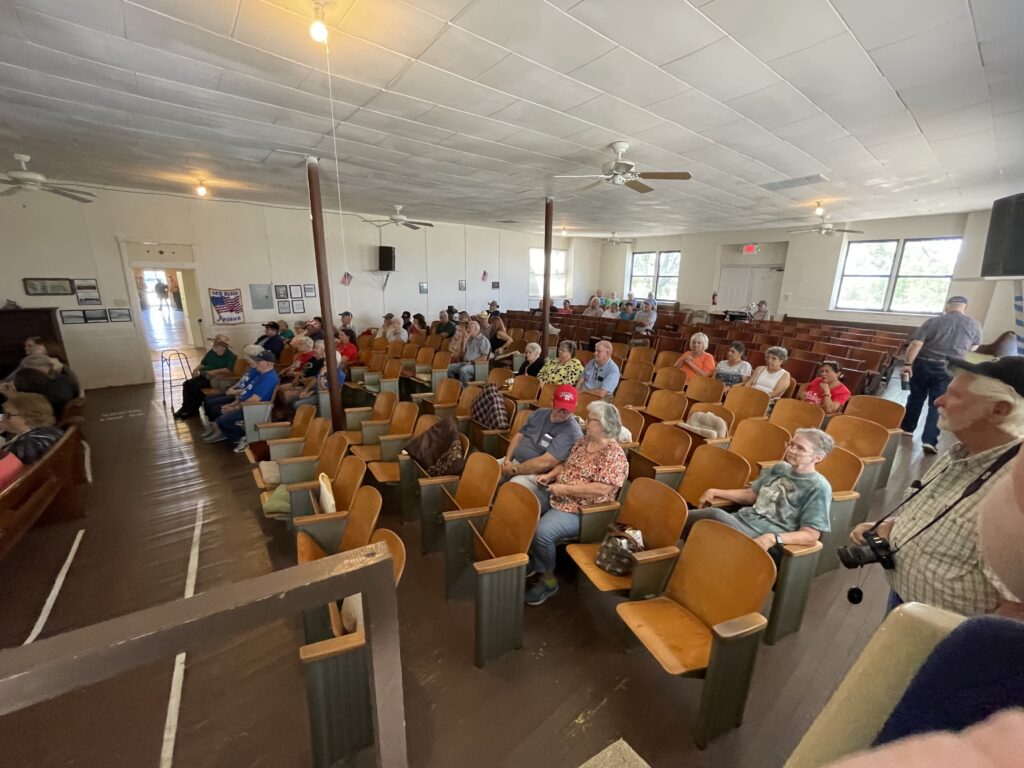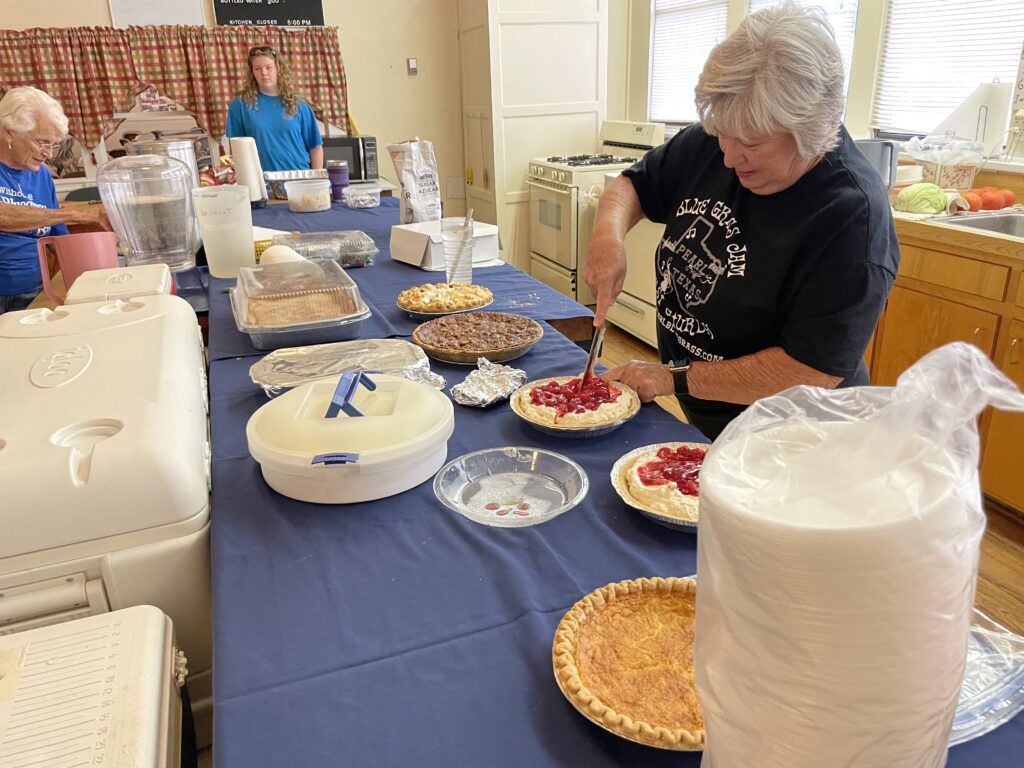 Pies! (and more)
Did we mention there were pies? Drop by the kitchen from 11 AM to 4 PM (or when the food runs out! it happens occasionally) on Saturday for some home-cooked good ol' fashioned southern food. Proceeds go to support the Community Center.
Camping
30 and 50 amp RV hookups available ($20 and $25 a night, respectively), and there is an area reserved for tent camping in the southwest corner.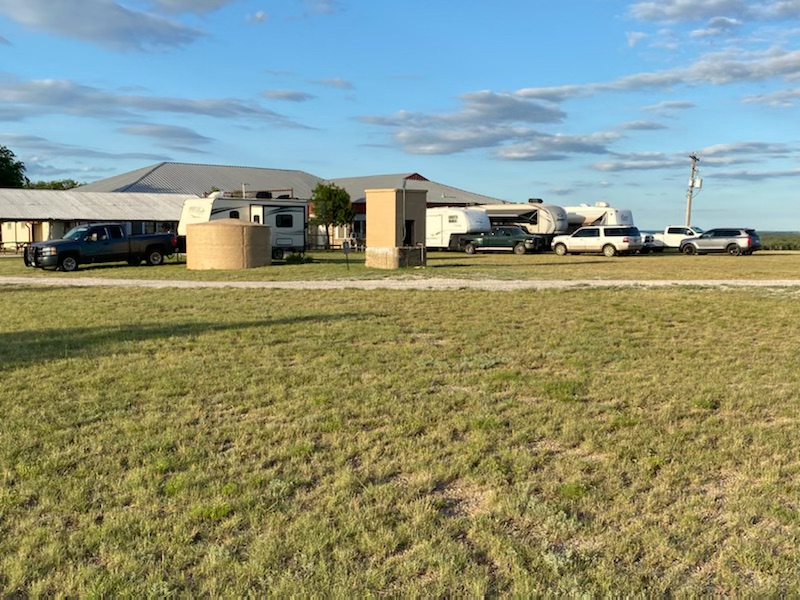 We can't wait to meet you!
If you have additional questions, contact us or check us out on: